[Girl Talk at Canopy Club on November 5, 2008]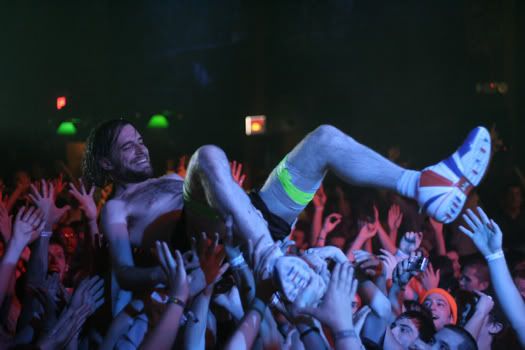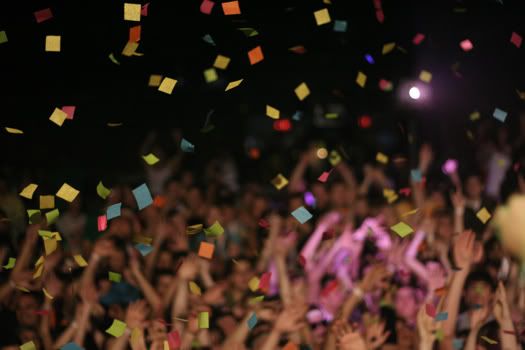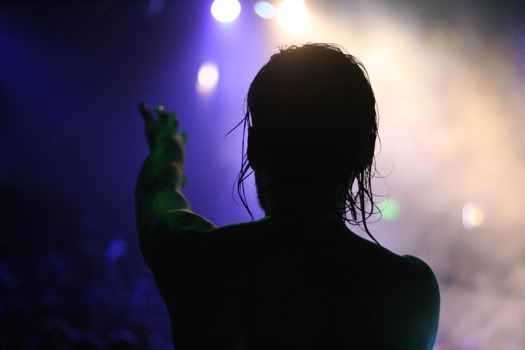 For more photos, a review and video, click the jump: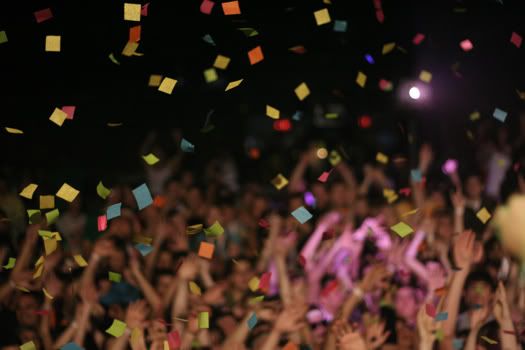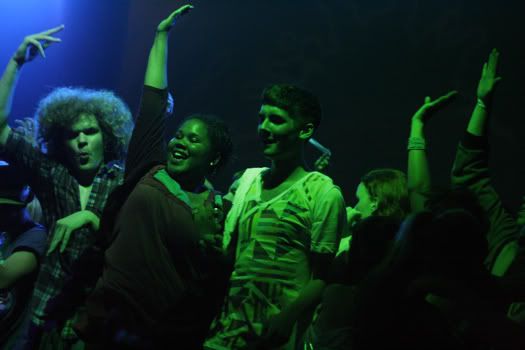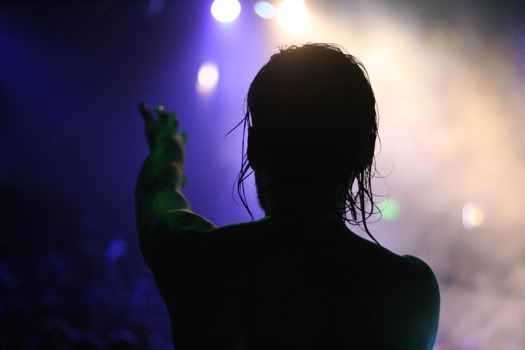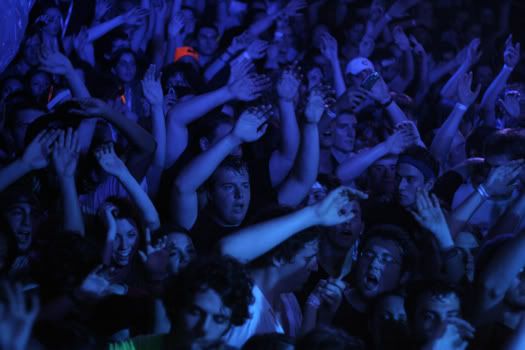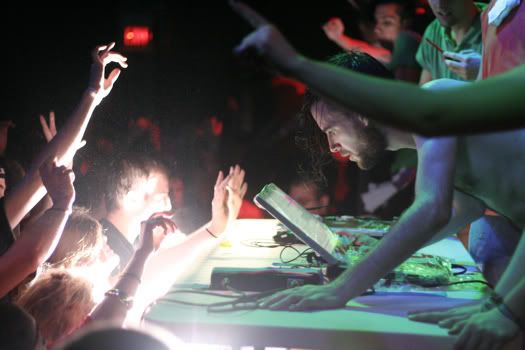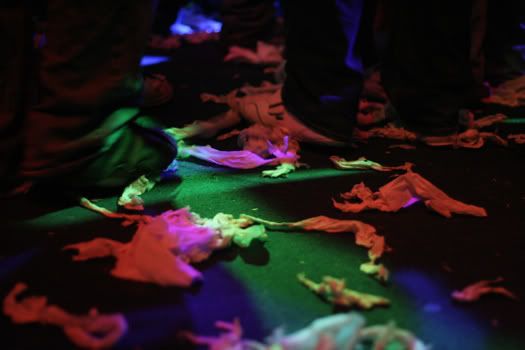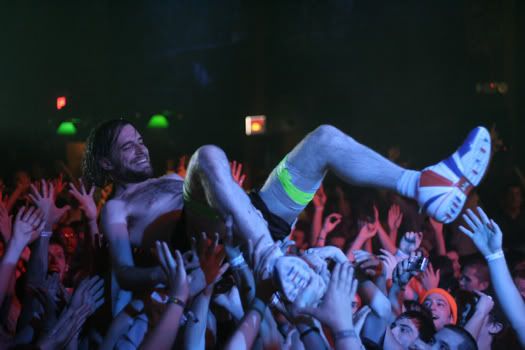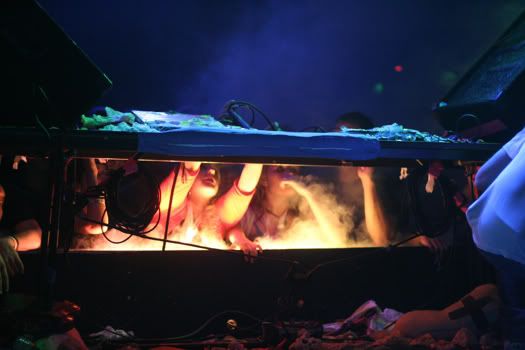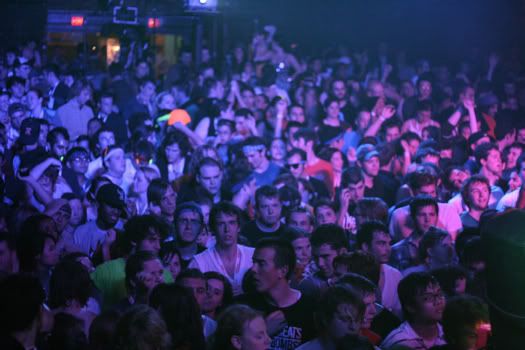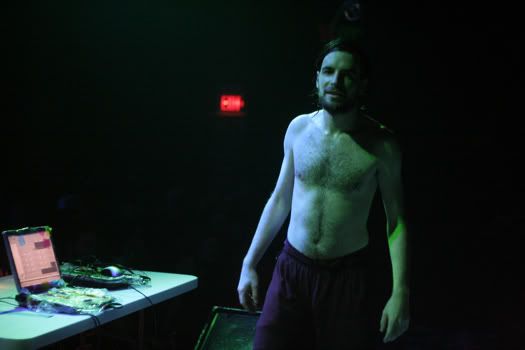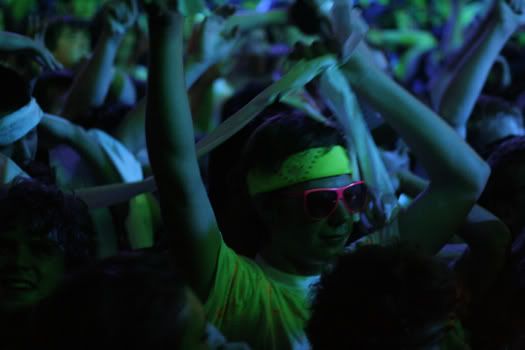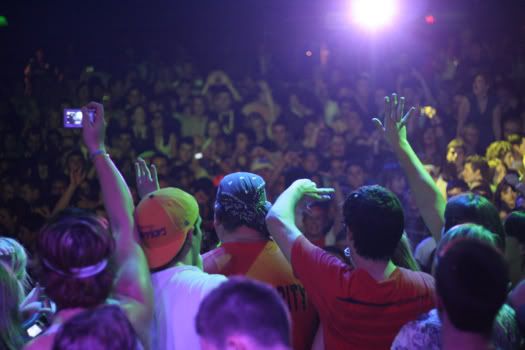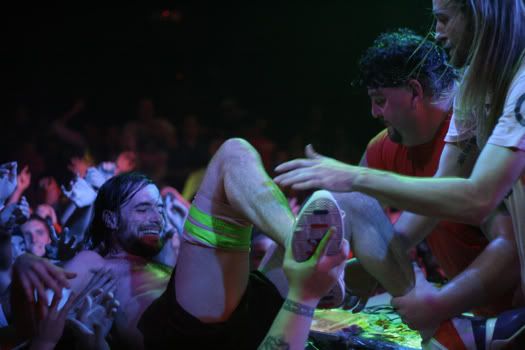 Woah.
If I were to indulge in my current state of oh-crap-school-night-overwhelmed-with-a-to-do-list mind, I would leave you with that. Woah. Because, truly, that's the only word to describe the crazy, wet chaos that was Girl Talk's show last night.
From the get-go, a packed-to-the-Gillis (heh heh) club was confusing, both to the regulars and the newcomers. For the few of us who spend at least twice as much time between the venue's rainforesty painted walls than campus bars like other college kids, it was jarring to see so many people, so many unfamiliar faces, so many…stiletto heels. But, shoe wear cynicism aside, it was confusing for the first-timers, too. Between the off-hand overheard comments regarding toilets — "omg, I heard this was the only bathroom in the place?" — and other typical aspects of Canopy, some of the crowd knew what body-banging contact they were in for, while a bunch seemingly had no clue.
Which brings us back to the "woah". Unlike the typical Girl Talk performance, this one was surprisingly tame, even though calmness usually doesn't relate to a stage full of enough shirtless, sweaty men to pretend you're in Cabo. Unlike the usual power struggle between everyone bumrushing the stage while those on it try to push their way to the front like a human version of a sliding quarter machine at a casino (since, you know, the whole "point" is to get as close to Greg Gillis as possible or whatever), Canopy stationed staff between the crowd and the stage, which worked well to keep the stage full but not overwhelmingly so.
One problem, though — the front row was absolutely stuck, crushed against a barricade with nowhere to go and no chance to move, even with repeated pleading to the staff standing between them and moving up, where they would be able to take a full breath. There didn't seem to be much rhyme or reason to who made it onstage and who didn't — the best way seemed to be by getting pulled up from the corners, though a bevvy of girls seemed to think that flirting and huddling near security guards would prove more fruitful — but the scene between the stage's edge and the audience was, well, not a pretty one, and quite chaotic in a dancing-carnage sort of way, to say the least.
The show was what Gillis sets out for it to be — fun. Crazy, toilet-paper gunned, confetti-sprinkled fun. And though some of his equipment may have died leading to an abrupt end of the set, the crowd made sure to get their money's worth, whether that be face value, twice that, or whatever price named through the many Craigslist resales of tickets, proving that the hottest show in town was, well, just that.
Video:
(It's short, but there's only so many flailing limbs you can capture without getting dizzy. This is just a tiny glance into the night:)
For the original post, click here.